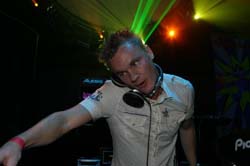 Behind the name 4 Strings hides 2 musicians, Carlo Resoort and Jan de Vos. The two have known each other since 1986. In 1990 they became interested in dance music and from that moment on, they started producing their own music. All their spare time was spent in the studio. Throughout the next couple of years not only did their skills expand but also the amount of equipment in their studio. With the new tools and experience that they had, they could finally discover in which direction they wanted to go with their musical careers: Carlo decided to stay in the studio while Jan found his passion in mixing and started his DJ-ing career.
Jan met up with Piet Bervoets (Carlos, ROOS and Rank 1). Piet taught him the basics of mixing. After a couple of months, Jan joined a drive-in-show, where he played all kinds of music from R&B, Top 40 to Happy Hardcore. His skills were improving rapidly, and it was during this time period he noticed that his main interest was in dance music. After winning a first place prize in a DJ contest, he was offered his very own residency.
Carlo Resoort started with dance music in 1994, and soon after that he had his first release. After a couple of releases he had his first major breakthrough: "Carlos - the silmarilla", produced together with Piet Bervoets of Rank 1. Two years later he had another hit with "Turn it around". Around this same time, a new record company was born, "Spinnin Records". Shortly thereafter Carlo signed his first record deal and 4 Strings was born.
"Daytime" was the first track of 4 Strings, supported by Paul van Dyk, Judge Jules and Tiësto. The follow up was "Into the night", which got even more support. After a vocal edit called "Take me away" it became a huge hit around the globe, even now the track can be heard worldwide.
"Diving" and "Let it rain" were the follow ups, and soon the first album was released. After remixing "Summer Sun" they started to work on their second album "Turn it around". The album was named after the new single which is a remake from Carlo's former project "Alena". Carlo also started another project under his own name, with productions like "Remover", "O" class", "Musica", "Ayers Rock" and "Rise".
In 2005, 4 Strings released another hit "Sunrise", this track was the theme of the number one dance music festival in Poland also called Sunrise.
DJ 4 Strings is not just your average DJ, he is an entertainer. He is part of the new generation of DJ's today. Crowds are amazed by his refreshing and unique style of playing music. DJ 4 Strings is always prepared with unpredictable and quality tracks that both excite existing fans and bring new people to the scene. There is so much good music out there and 4 Strings do not want to limit themselves to one style. 4 Strings is also in the top 10 for Holland on "The DJ List".
4 Strings touring diary is incredibly hectic for 2006, with regular stops at major venues in the world. Such as touring the USA, Australia, Mexico, Poland, Asia and Holland just to name a few. 2006 is sure to be a massive year with the release of their brand new track "Hurricane" and also playing at the leading trance party of Holland "Trance Energy" in February. Summer 2006 will also see the first ever unique "4 Strings Live Tour" worldwide. Following the release of their new album this year.
Stay tuned and be amazed by this fast growing act in 2006!
Discography:
4 Strings - Hurrikane (2006) 4 Strings - Desire (2005)
4 Strings - Sunrise (2005) 4 Strings - Day Time
4 Strings - Take me away 4 Strings - All around the world
4 Strings - Diving 4 Strings - Let i train
4 Strings - Summer Sun 4 Strings - Back to basics
4 Strings - Until you love me 4 Strings - Turn it around (1999)
4 Strings - Love is blind rmx
4 Strings Album
- Believe
- Turn it around
DJs played together:
Roger Sanchez, Ferry Corsten, Johan Gielen, Ron van den Beuken, Benny Benassi, Kara Sun, Rank 1, Darren Tate, Cosmic Gate, Marco V., Phats and Small, Judge Jules, Matt Darey
Venues:
ESP Club – Johanisburg Fabrik Club - Moskow Splash-Festival - Sud Africa
Velvarre – Tokio Ministry of Sound – Sud Africa Club Heaven - Adelaide
Club Gas – Sydney Club Rise – Perth Club Ekwador – Poland
Club Trezor – Poland MTV-Party – Romania Club Heaven – USA
Niva Club – Stockholm Club Space – USA Club Trezor - Poland
VD Mas - Mexico City Taipei - Taiwan Yes Club - China
1015 - USA
4 Strings har spillet 2 gange i Monstermix.